Items for Sale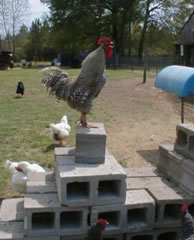 Reduced: Corn fed and healthy adult free range roosters for immediate reduced sale price: $5.00/each. These birds have not been given antibiotics or other chemicals in their life time; born and raised where they are being sold. I do not have hens for sale, only roosters. Email me at frank@frankdillman.com before coming to our farm in Notasulga, Macon County, Alabama.
Fisher Grandma Bear wood burning stove, pictured below, will soon be listed if not sold locally.
Click any thumbnail image below to see a larger version.